Old St. Mary Parish in Philadelphia hosted the annual commemoration of American Catholic patriot Commodore John Barry on Sunday, Sept. 13.
Following a Mass celebrated by Old St. Mary's pastor, Msgr. Paul DiGirolamo, a ceremony took place in the parish cemetery behind the church in Old City Philadelphia.
The cemetery holds the remains of Barry, who was buried there on Sept. 14, 1803.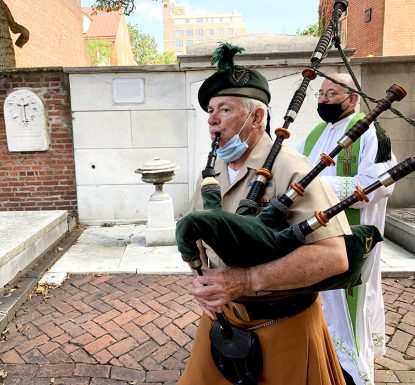 Msgr. Paul DiGirolamo, pastor of Old St. Mary Parish in Philadelphia, walks to the parish cemetery accompanied by Irish bagpipers.
Known as the "Father of the American Navy" who founded the command structure of the U.S. Navy and led naval engagements heroically in the Revolutionary War, Barry was also a member of Old St. Mary's.
The church at 248 S. 4th Street, Philadelphia, was founded in 1763.
Since Barry was a native of Ireland who made the port of Philadelphia his home, the annual observance includes groups honoring their Irish heritage, such as the Friendly Sons of St. Patrick, Ancient Order of Hibernians (AOH) of Philadelphia and New Jersey, the Irish Center and the Commodore Barry Clubs and Brooklyn and Philadelphia, among other groups.
The officers and sailors of the Naval Support Center participated and supplied an honor guard for the ceremony.
Watch a video of the ceremony here.